Save Time, Money with an ERP Built for You
Nothing improves business performance more immediately than actionable data. Any system can amass data; it's like collecting dust. Having a solution that generates real business insights is the key.
Simply throwing more expensive software at suspected system weaknesses is not the solution. The smart money heads toward creating a fully integrated system, whether your business is service, manufacturing, technology or nonprofit.
At the core of each successful business is an adaptable hub that talks to other business software and consolidates data, making it ready for analysis. It is called an Enterprise Resource Planning application. There are scores on the market, but not a single one that does everything well. So, many businesses end up buying one system and folding and bending until it does what the business needs – to an acceptable degree.
But why buy an ERP made for financial services and try to squeeze out analytics for manufacturing?
You wouldn't buy a recliner if you needed a sofa? Or a sporty roadster for a family of five?
An ERP is one of the most significant business intelligence investments you are likely to make. It should fit your needs; not be an off-the-rack application.
What's the payback timeline? One study of a professional services firm showed an annualized ROI of 158 percent over five years. That's like printing money!
What is ERP software? Watch our 90-second video:
Here's the best news: You can afford an ERP built for your company's needs, and you'll see value on two fronts – software savings and process efficiency.
Get actionable insights from throughout your entire business process by tracking all aspects of production or distribution, financials and back office. One dashboard. Hours of data in seconds from as many sources as you need. Desktop or mobile.
Citinet's experienced ERP developers help you track what you need
HUMAN RESOURCES
CRM
FINANCE/ACCOUNTING
IT HELPDESK
ECOMMERCE
SUPPLY CHAIN MANAGEMENT
ORDER PROCESSING
INVENTORY AND PROCUREMENT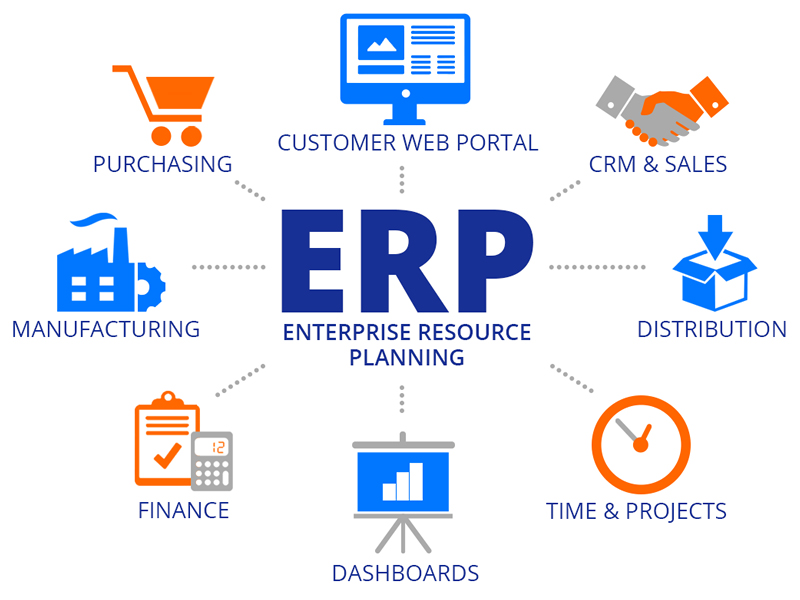 A custom ERP:
Reduces overhead: Eliminate redundant software subscriptions with one unified system.
Boosts operational efficiency: Process automation and leaner workflow management raise productivity.
Heightens data accuracy: Enter it once in one place and avoid duplicated or inaccurate data.
Creates insights: Get unprecedented visibility into day-to-day operations in real-time on all digital devices.
Enhances business decisions: Customize reports to surface the KPIs for each business unit.
Standardizes processes: Replicate processes across divisions and locations, creating a single, searchable data repository. No logging into different servers.
Drives user adoption: Happier teams get more done and often focus on more sophisticated and creative tasks.
Offloads the mundane: With automated processes doing the repetitive work.
How Fast Can We Get Started?
We spend a lot of time (on our dime) in the discovery process. For example, when we built an Electronic Health Records system, we were on the floor with the nurses for all three shifts.
For a school, we hit time to value in four months.
We're sticklers about onboarding in the right ways. Depending on the size and complexity of the business needs, our onboarding teams may need a couple of weeks or a couple of months.
Custom ERP software is  best characterized as a category of categories: each instance of the software can be made up of varying features and modules that best suit the needs of the business. Onboarding can take anywhere from a couple of weeks to a few months depending on the size and complexity of the business needs.
Integrations to existing software could be included, and the price of any custom or add-on feature can be also be included. We have dedicated onboarding teams to assist you with the transition.
Built on FileMaker:
Citinet Solutions software and applications are built on top of the FileMaker Platform. The FileMaker Platform is a simple, scalable, and reliable database computing platform that powers millions of applications. This gives Citinet Solutions customers access to secure, powerful underlying technology, that can be tailored specifically to improve your proprietary software. FileMaker is an Apple subsidiary that provides a unified platform to create and deploy custom apps for mobile, cloud, and on-premise environments.

Resource Planning & Creating Workflows Can Be Complicated.
We Can Help.
Partner with Citinet Solutions to take your custom software to the next level.