Customer Success Story
"Citinet's knowledge of our process and what we needed was amazing," she says. "They listened and
got it right the first time."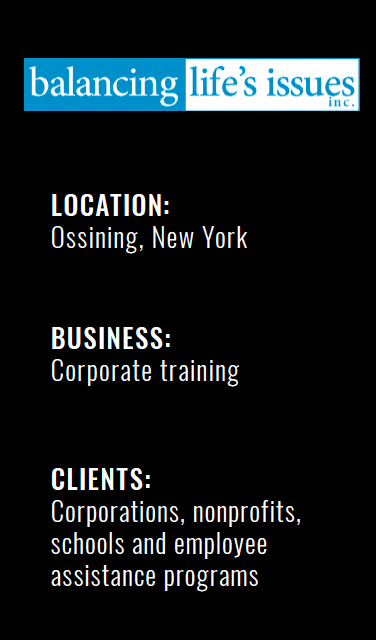 CHALLENGE
Help consultants worldwide instantly bill work hours; build a back-end system for tracking consulting assignments and payments, gathering feedback and generating customer invoices.
SOLUTION
Customized interactive portal for consultants that provided assignments, and collected hours-based invoices and customer feedback. Invoices generated in QuickBooks based on consultanting hours and immediately sent to customers.
RESULTS
• 30 percent cash flow improvement
• 30 percent savings in staff hours
• 100 percent confidence increase in reconfigured system
• 96 percent improvement in billable hours
HOW BLI BOUNCED BACK FROM A DIGITAL DISASTER
"We were a minute from going back to paper," says Wendy, whose company does training programs for businesses, employee assistance programs, schools and nonprofits. Her consulting staff includes social workers, wellness coaches, registered dieticians, fitness instructors, CPAs, financial advisors and lawyers, among others.
The crash would be troubling for any company, but when your name is Balancing Life's Issues and you teach others how to manage stress, navigate organizational change and be effective in the workplace…well, you get the picture.
"I've never seen morale so low, and we have a very positive team," Wendy says.
Because she hires consultants via the Internet, Wendy is sensitive about how a breakdown could cause her experts to lose trust in BLI.
"Anything that destroys my credibility is devastating. Plus, these people have families and they depend on me to earn a living," she says. "I had to get this worked out fast."
Working out the problems had to start with identifying system weaknesses.
The FileMaker system Wendy bought from a big-name vendor was heavily customized, with features BLI didn't need but were guaranteed to create latency and conflict within the system.
On a good day, Wendy estimates, her team only was getting about 25 percent of the promised functionality. Then catastrophe struck.
"It didn't just crash for 1,900 people; it crashed in a way that couldn't be fixed. We were dead. It was demoralizing for the staff. When we got the vendor on the phone, I can't even tell you how unhelpful they were," she recalls. Wendy agreed to pay for a site visit.
"All they did was mess up and show they didn't know what they were doing. It totally killed the dream," she says.
CITINET SOLUTIONS | CUSTOMER SUCCESS STORY
Simplify Resource Planning, Elevate Workflows. Grow Beyond That Typewriter.
Partner with Citinet Solutions